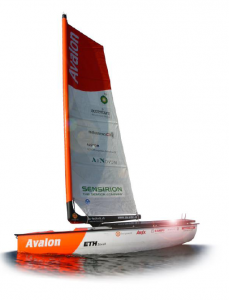 Avalon
Designed in 2008 by students from ETH Zurich, Avalon was one of the first autonomous sailing robots (4 m long for more than 400 kg). After having navigating on a Swss lake, Avalon came to Mediterranean sea in Sept. 2012 to achieve a planned route of de 120 km between Toulon and Saint Tropez in which he got a mast damage. Since then he is sheltered in Seatech where it was repaired and technologically revised during a few student projects under the supervision of COSMER staff.
The experience acquired with Avalon during its Mediterranean challenge served as a starting point in the design of another autonomous sailing robot named MARIUS.
MARIUS (Mediterranean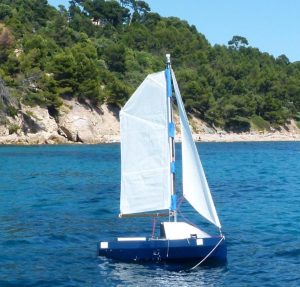 Autonomous Robot built by ISEN and SUPMECA)
This sailing robot of 2m length (100 kg) was entirely designed and built in 2013 by 16 valiant students of ISEN Toulon and SUPMECA Toulon that were grouped during 4 months to conduct a mecatronic project. Thanks to the experience gained from Avalon, MARIUS was given priority to design robustness (wooden and epoxy hull, traditional rigging, National Instrument embedded calculator) and to its operative software (navigation algorithm). It relies on the navigation code proposed by Luc Jaulin and Fabrice Lebars for Vaimos.
With its compactness, easy handling, MARIUS is regularly subject to student projects and practical work that are supervised by Cosmer staff.