Experimental facilities:
Experiments with underwater robots can be carried out in three possible locations:
– wave basin, 3m x 10m, depth 1.5 m with a slope at one extremity, located at Seatech, Toulon University. The basin is equipped with a wave generator that enables to produce 10 cm peak to peak swell at different frequencies.
– indoor test tank, 3m x 3m, depth: 6m, located at Ifremer, La Seyne sur Mer.
| | |
| --- | --- |
| wave generator test tank – Ⓒ Seatech | Indoor test tank – Ⓒ Ifremer |
– outdoor test tank located at Ifremer, La Seyne sur Mer, with an area of 160 m2 and a depth of 6 m.
Research people from the Cosmer lab can have access to the test tanks at Ifremer Mediterranean center.
The Ifremer center is located 20 minutes by car from the Toulon University campus of La Garde.
Available robots:
– CORAL ROV– Ifremer/COSMER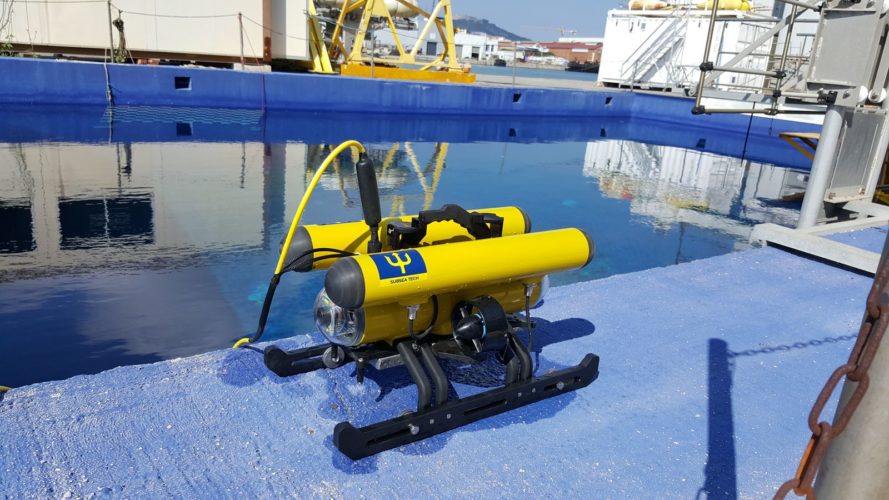 Built by the SUBSEA TECH company, the CORAL ROV is equipped with three thrusters, incorporates 2 cameras, a scanning sonar, a Doppler Velocity Log, a USBL positioning system, a depth sensor and an inertial measurement unit. It is ROS-compatible. This robot is intended for education and research purposes.
– VORTEX – Ifremer (source and copyright : Ifremer)
VORTEX is a an Open and Reconfigurable Vehicle for EXperimental Techniques from Ifremer. It is an experimental ROV (Remotely Operated Vehicle) that serves as a means of experimentation and demonstration in robotics underwater intervention. It is dedicated to basic research and technological development in the field of underwater robotics for intervention. it can be remotely operated using a joystick or be programmed to execute automatic control modes from the acquired data by its on-board sensors.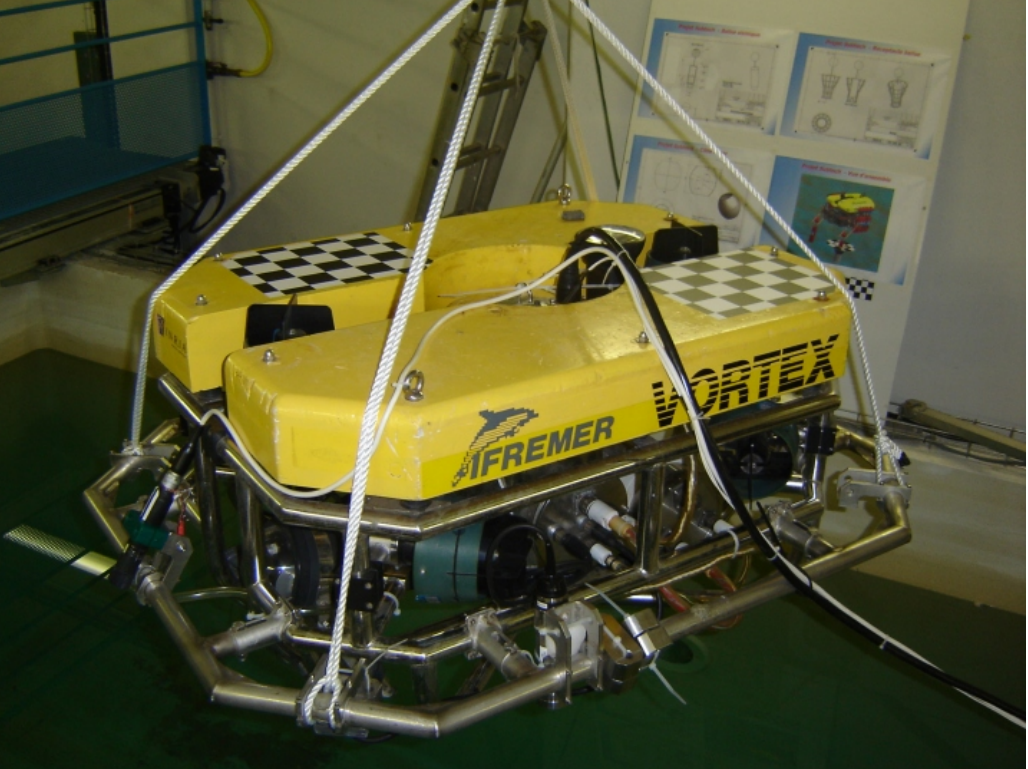 Embedded sensors include a video camera, a scanning sonar, an acoustic sounder, a Doppler Velocity Log, and pressure, compass and gyrometers. Its characteristics are:
weight: 220 kg,
Dimensions: 1.30m x 1.10m x 1.0 m,
Maximal immersion: 50 m,
Bottom/surface connection by optical fiber cable: power, data and 2 video channels,
PIRRAT surface controller under Linux OS with Ethernet access for external data processing interface,
Control in automatic or manual mode (HMI or wireless joystick).
– BlueRov™ robots, 1st and 2nd generations.
These robots are low-cost, opensource, lightweight, and compact robots that are easy to deploy. They are also easy to program (ROS/python/C++) and can be used in education training by students for their projects, and to set up new practical work for teaching activities at University.
| | |
| --- | --- |
| BlueROV™ 1st generation – tests in water tank | BlueROVs™ 1 and 2 linked by tether in water tank – Ⓒ Seatech/Cosmer |
– OpenRov™ robots,
These robots were the first kits that were used in 2016 for education purposes. The main projects that were developed included reverse engineering by additive manufacturing of electronic and battery compartments, and the embedded programming of visual object detection functionalities in javascript using Node.js.